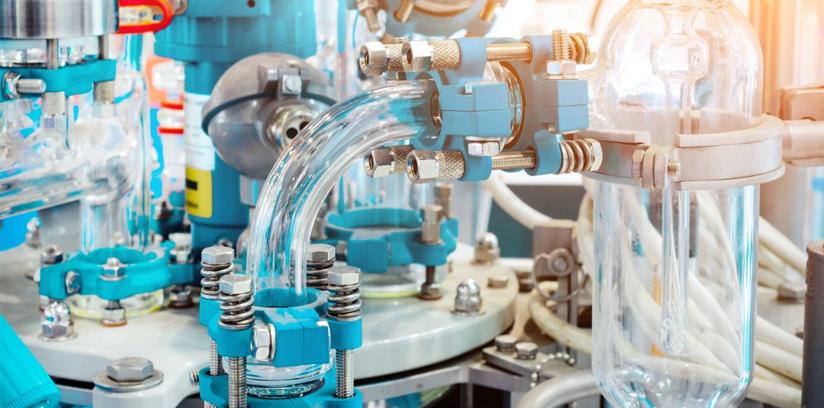 Goals:
The Department of Industrial Chemistry is to build, develop, and maintain meaningful and innovative high quality educational programs (and research programs).
To provide training to under-graduate and post-graduate students for generation of high quality publications in basic and applied research
To understand the need of industries and to work as a center of excellence in the field of education by establishing  effective, strong and fruitful linkage with industries, academic institution, professional society, R&D institutions, foreign institutions and industries
Make the students well-grounded in the principles and through knowledge of scientific techniques of industrial Chemistry.
Prepare students for professional participation in Chemical industries so as to adapt themselves to jobs which are problem solving.
Objectives:
To intensify interdisciplinary knowledge blending technical and pure science.

To strengthen students communication and presentation skills.

To promote entrepreneurship.

To enhance and promote research facilities benefitting to students research training and creativity.

To provide access and expose students to research laboratories and industries in india.

To reach, enlighten, explore varied educational expertise and fostering skills and global competence.

To get benefited by profound expertise in the region by networking with neighbouring institutes.
The course is a unique amalgamation of Chemistry and Chemical Engineering, which has been recognized as a vital course by chemical industries and allied industries as well. Keeping in view the scenario of Chemical Industries in India, UGC has designed and launched a course in Industrial Chemistry at Undergraduate and Postgraduate levels.
The institute is pioneer in offering B.Sc. (Industrial Chemistry) course at UG level in Saurashtra and Kutch region since 1998. Moreover, the college which is awarded with UGC assistance for M.Sc. (Industrial Chemistry) under innovative program – Teaching and research in interdisciplinary and emerging area in 2008.

It is a vocational technical course, specially designed to cater the needs of chemical industries.
Best Practices at Department
A.Y.
Area of Consultancy
Agency
Remark
2013

To 2018

Pollution Control Assessment
Gujarat Pollution Control Board (GPCB), Gandhinagar
Three staff members are the environment auditors for schedule-1 industries.
2016-17,
2017-18
Soil Testing

Government of Gujarat
One Staff members is a coordinator.

Many needy students of UG as well as PG Industrial Chemistry are benefited.
Research paper selected as a KEY PAPER entitled "Implementation of Green
Technology: Some Selected Industrial Case Studies" in the e-proceedings of 28th
National Convention of Chemical Engineers & 2 Day National Seminar on "Green
Technology and Environmental Sustainability at Ahmedabad Organized by The
Institution of Engineers (India) Gujarat State Centre, 07-08Sept, 2012 .
A.Y.
Name of Faculty/Student
Detail of  Awards/ Recognitions
Organization
2016
Ravi S. Tank
Awarded Research Output-Faculty
Atmiya Group of Institution
2014
Awarded Research Output-Faculty
Atmiya Group of Institution
2013
Awarded Best Research Paper
International Journal of Textile and

Fashion Technology (IJTFT)

2012
Research paper selected as a KEY PAPER
National Convention of Chemical Engineers,

Institution of Engineers (India) Gujarat State Centre

2008
Co-ordinator (Head)

Environmental Audit Cell

Schedule-I Auditor

Shree M. & N. Virani Science College

GPCB Gandhinagar
2008
Associate Member

The Institute of Engineers (India)
2008
Board of Studies

Industrial Chemistry

Saurashtra University
2006
Board of Examination

Industrial Chemistry

Saurashtra University
2011 - 2018
Mr. Viral H Karia
Membership of Environment Audit Cell – Schedule I Auditor
GPCB
2015
Dr. Mahesh Savant

Best Researcher Award- Faculty
Atmiya Group of Institution
2011
Erasmus Mundus Europe Asia Postdoctoral fellowship
Europe
 
Dr. M. L. Savaliya
2013
Ph.D. Research fellowship by Technical Education Quality Improvement Programme (TEQIP), Phase-II, World Bank (For July 2013 to December 2014).
(TEQIP), Phase-II, World Bank
2015
Ph.D. Research fellowship by Ministry of human Resource Development (MHRD), New Delhi under Full time Institute Research Scholar (FIR) category (from Jan. 2015 to 01.06.2017).
(MHRD), New Delhi, INDIA.
Department Highlights / Exclusive
Vision:
Empowering graduates to become leading future technocrats with innovation, research and spirituality having a solid foundation of pure sciences in conjunction with applied sciences to serve the global needs.
Mission:
IC dept is passionate and committed to:
- To divulge the students the contemporary state of knowledge and to imbibe ethos of technocrat in rapidly emergent field of science & technology by building the foundation on fundamental sciences.
- Provide outstanding undergraduate and graduate Industrial chemistry degree programs with excellent technical and leadership skills, integrity, and social responsibility.
-Be recognized internationally as a leader in research and industrial science, creating novel and sustainable solutions to serve public interests and to address global challenges in areas such as health, energy, and environment.
-Provide rigorous and contemporary curriculum that is responsive to future developments, reflecting the interdisciplinary nature and diversity of the industrial need, thus enabling students to become successful industrialist, entrepreneurs, academicians and leaders.
Year
No. of M.Sc. IC Students Placed

 

ON-Campus
OFF-Campus
2011
10
Almost 100% placement after completion of the program.
2012
12
2013
17
2014
35
2015
10
2016
15
2017
25