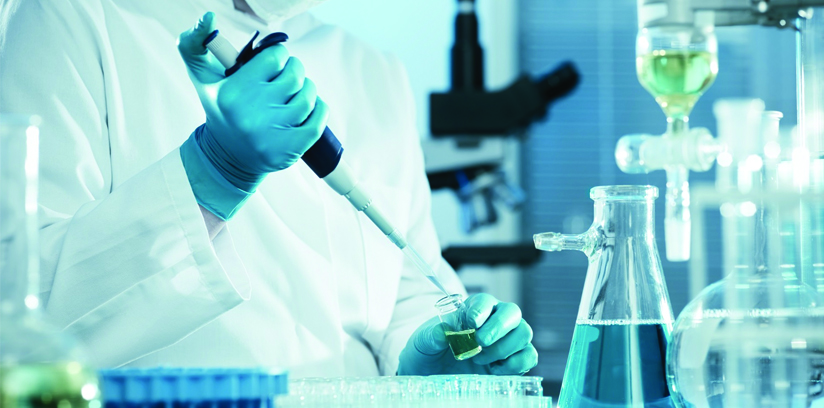 To nurture creativity, teamwork, communication and, physical, intellectual and social abilities, we offer a range of opportunities to the students through activities beyond the curriculum. Participation in holistic approach assists each student to reach their true potential.
The department undertakes number of qualitative improvement programmes for enhancement of scientific excitement, Awareness, Involvement and progression towards research, Field Trips, Guest Talks, Workshops, Hands on training, summer schools, and educational tours. It helps students to have firsthand experience of advances in Science, skill enhancement and progression to higher studies.
Beyond the Curriculum consists of various domains;  the 'Co-Curricular Activities', 'Extra-​Curricular Program', 'Extension Programme' and the 'Earn While You Learn Scheme' on paper recycling and wealth creation from bio-waste. Both programs enhance and extend student learning and experiences beyond academic syllabi in a safe, fun and enjoyable environment.
The students learn many life skills through different activities outside the classroom including leadership, decision making, taking responsibility, commitment, teamwork and learning to organize and motivate.
Beyond curriculum programs &  Few of activities at our department are mentioned below:
Workshops / Hands on Training Programme
Birthday Board Preparation
Display Board Preparation
Department Newsletter
Summer / Winter Schools,
And  Road Shows


Expert Lectures and Guest Talks


Field Trips / Educational Tours


National Symposium and Conferences


Workshops and Exhibition for Skill Improvement


Extracurricular Competitions- Singing/Dance/ Drama/ Food without Fuel/ Rangoli /Rakhi Making competition .


Extension Activities– Taking Biotechnology to Society



Science Popularization programmes

For High School Teachers and Students



Faculty Development Programme


The Department of Biotechnology offers graduate, postgraduate and Ph. D programmes which imparts fundamental as well as real world problem solving approach to its students for the development and betterment of the society.
Best Practices at Department
Over last decade the Department of Biotechnology has engaged students in various beneficial and innovative activities such as Lab to Land, Periodical Newsletters, Creative Assignments, STAR Projects, and Internship Programmes at campus, Earn While You Learn scheme, Research Proposal Writing and SOP preparation for various laboratory instruments.
Department Highlights/Exclusive
The department facilitates students with an enormous infrastructure to enable nearly five hundred students each year to learn and explore various aspects of biotechnology with the aid of several sophisticated instruments and techniques.
We are pioneer in exposing students to Plant Tissue Culture, Bioinformatics and Animal Tissue Culture techniques in the Saurashtra region of Gujarat. We motivate the students to aim for sustainable development by encouraging recycling of waste into useful products such as Recycled Paper and Flowers' preparation from agriculture waste.
CAREER GUIDANCE AND PLACEMENT CELL
Department of Biotechnology is proactively engaged in student placement and pre-placement training. Department has organized several pre-placement training programmes in association with training and placement cell of the institute. The institute has signed a MOU with MNCs like Zydus Cadila Healthcare Ltd., Ahmedabad for student training and placements. Many alumni of the department have served in these MNCs at high level positions for years which, have built reputation of this institute as epicentre of skilled human resource.
Major recruiters at Department of Biotechnology include Zydus Cadila Healthcare Ltd., Ahmedabad, Intas Pharmaceuticals Ltd., Ahmedabad, Sun Pharmaceuticals Ltd., Baroda, Reliance Life sciences, Mumbai, TATA Consultancy (TCS) Ltd., Gandhinagar, Sarjan Biotech. Pvt. Ltd., Bhuj, Span Diagnostics, Surat, Excel Cropcare Ltd., Mumbai, Claris Pharmaceuicals Ltd., Ahmedabad, Amneal Pharmaceuticals Ltd., Ahmedabad, Enzene Bioscience, Pune, Adani Masala Pvt. Ltd, Rajkot, Oceanic food ltd., Jamnagar, GVK- EMRI, Ahmedabad and many more. Our students have also joined several academic organizations for teaching and research career. Department has catered the need of skilled human resource for industries and organizations from the sectors like Biopharmaceutical, Healthcare, Agriculture, Food, Environmental Management, Information Technology with more than 50% candidates opting for a career in industry and academics.
Placement records of PG Students:
Year
Progression

To Higher Studies

Company
Academics
Entrepreneur

or Family Business

Competitive Exam Preparation
Job Seeker
2013-2014
19%
25%
31%
5%
20%
-
2014-2015
5%
54%
31%
-
10%
-
2015-2016
25%
15%
40%
5%
15%
-
2016-2017
22%
24%
22%
12%
20%
-
2017-2018
10%
15%
25%
15%
35%
-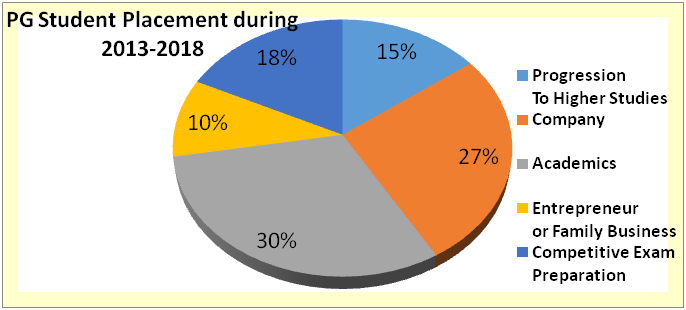 Contribution of department for the placement and training of students:
YEAR
COMPANY
No. of Students Selected
2013-2014
Oceanic Food ltd., Jamnagar
1
St. Xavier College, Ahmedabad
1
Lupin, Pune
1
Shree M. & N. Virani Science College, Rajkot
2
Glenmark Pharmaceutical Ltd
1
Somnath Academy, Gir Somnath
1
Sigma Educational Network, Porbandar
1
Balaji Wafers Pvt Ltd, Rajkot
1
Total
9
2014-2015
Modi School, Rajkot
1
Civil Hospital, Lab technichian, Gandhidham, Kutch
1
Zydus Cadila, Ahmedabad
1
Sola Civil Hospital, Lab Technician, Gandhinagar
1
Dedicated Academy Pvt. Ltd, Rajkot
1
Sola Civil Hospital, Lab Technician, Gandhinagar
1
Zydus Cadila, Ahmedabad
1
Allen Career Academy, Ahmedabad
1
Amneal Pharmaseuticals, Ahmedabad
1
School of Science(SOS), Rajkot
1
Total
10
2015-2016
R. K. University, Rajkot
1
MBRC, Jamnagar
1
CSMCRI, Bhavnagar
1
Ishan Bio Pvt. Ltd., Ahmedabad
1
Swastik School, Rajkot
1
Anhox helath care, Rajkot
1
Dholakiya School, Rajkot
1
Dept. of Botany, Shree M. & N. Virani Science College, Rajkot
1
R. K. University, Rajkot
1
School teacher, Chotila
1
MSN Labs, Rajkot
1
Total
11
2016-2017
Adani Masala Pvt. Ltd, Rajkot.
1
Sarvoday Science College, Rajkot
1
Gardi Vidyapeeth, Rajkot
1
Zydus Cadila Ltd, Rajkot
4
PGVCL, Govt. of Gujarat
1
Abott Ltd., Rajkot
1
Shree M. & N. Virani Science College, Rajkot.
1
Enzene Bioscience, Pune
1
Aastha Science School, Jasdan
1
Total
12
2017-2018
GVK EMRI
02
Intas Pharmaceuticals Ltd., Ahmedabad
01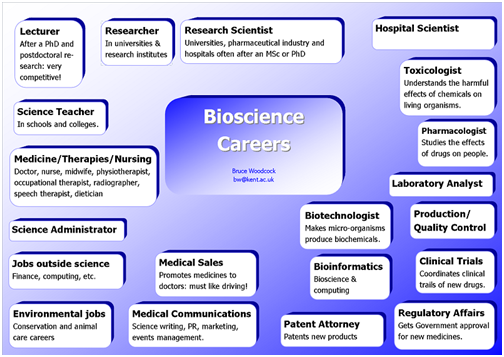 Celebration of Gurupurnima : Exhibition/Competitions on "Importance of Guru in Life" – 27th July 2018
ATMIYA Scitech Utsav 2019